EFFICIENT AND AFFORDABLE SINGLE-ITEM REMOVAL IN LONG BEACH CA
Same-Day Single Item and Bulky Pickup Near You.
Next-Day Single Item and Bulky Pickup.
Single and Bulky Item Curbside Pickup.
Free Estimates and Up-front Pricing with No Hidden Fees.
Locally Owned and Operated Family Business.
Professional Single Item Junk Removal Services.
ECO-FRIENDLY
JUNK REMOVAL SERVICE IN LONG BEACH, CA
Clear It Junk Removal knows that not all your items are 'junk'. Our team wants to do right by donating, recycling, and properly disposing of your single item.
Sofa and Sectional Removal
Mattress Removal and Disposal
Hot Tub Removal and Disposal 
Piano Removal and Haul Away
Appliance Removal and Recycle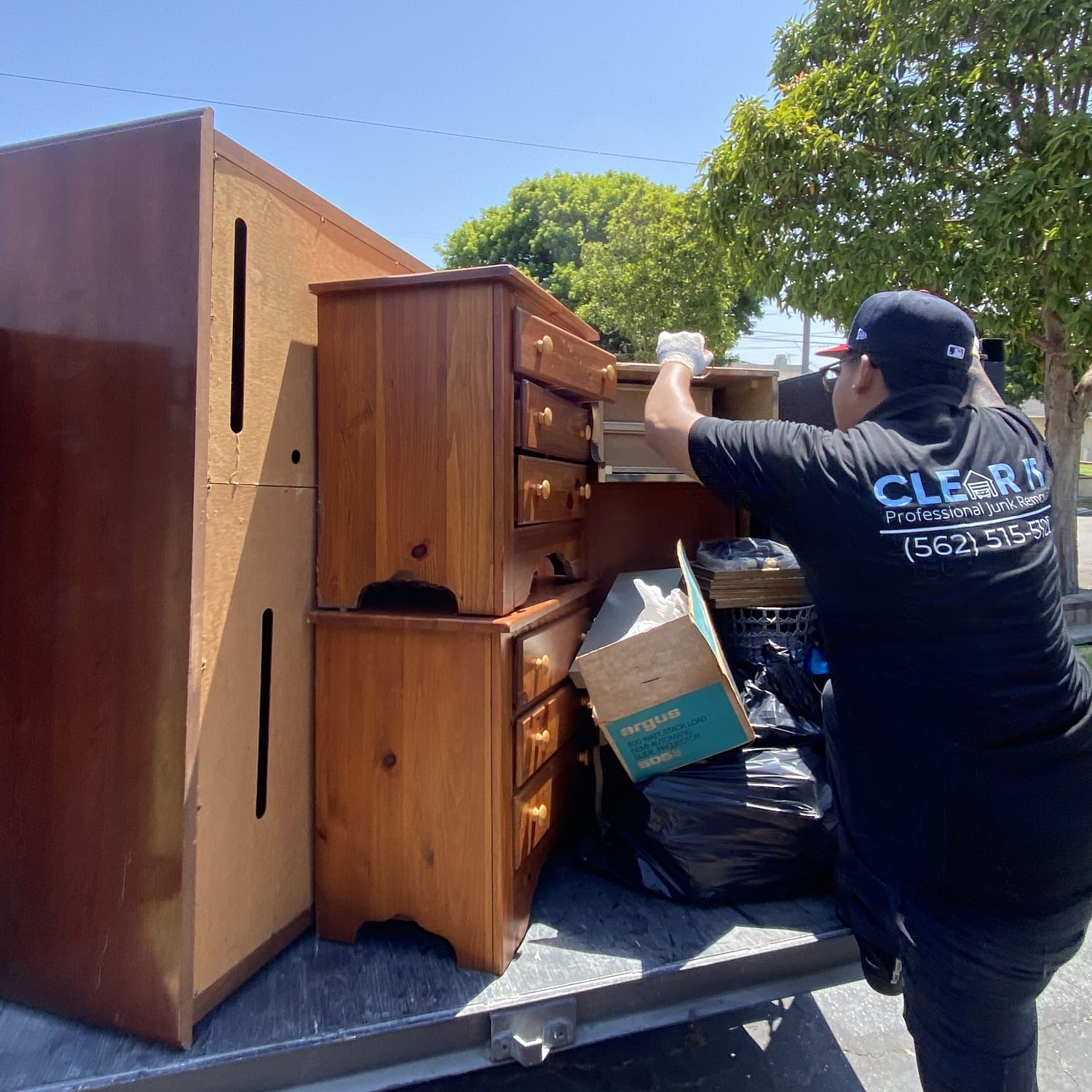 WE HAUL AWAY YOUR SINGLE AND BULKY ITEM IN LONG BEACH CA
Do you have a bulky or single item that you need to be picked up from your residence or place of business? You're probably avoiding the task because it's not a lot of stuff, but these items still take up space. Most bigger and bulkier items can also weigh a lot!
Luckily, you don't have to stress about how you're going to remove bulky and single items! Let our Clear It Junk Removal team know what item you want to be removed and we will handle everything for you.
Since we are fully licensed and insured, you will have nothing to worry about as we swiftly haul away your bulky items through your home and out the door.
Getting rid of single or bulky items is not an easy task to take care of yourself! Clear It Junk Removal is the perfect way to make that task happen quickly and affordably. Call us today so our team can haul away your single and bulky items. 
WE COME TO YOUR SINGLE ITEM IN LONG BEACH CA
We offer the best results when we come to remove your single or bulky item for you. We will provide you with the best quality service and convenience throughout the entire junk removal process. Get in touch today to say goodbye to your single or bulky item and hello to your space! We operate in cities across Orange County and Los Angeles County, including:
Bellflower, CA
Carson, CA
Cerritos, CA
Cypress, CA
Fountain Valley, CA
Garden Grove, CA
Huntington Beach, CA
La Palma, CA
Lakewood, CA
Long Beach, CA
Los Alamitos, CA
Lynwood, CA
Norwalk, CA
San Pedro, CA
Seal Beach, CA
Torrance, CA
Westminster, CA
& beyond!
JUNK SERVICES
Single Item Removal

Furniture Removal

Appliance Removal

House Clean Out

Garage Clean Out

Hoarder Clean Out

Mattress Removal

Piano Removal

Hot Tub Removal
PROPERTY SERVICES
Residential Junk Removal

Commercial Junk Removal

Contractor Assistance

Realtor Assistance

Trash Overflow Services

Yard Debris Removal

Basement Clean Out

Shed Clean Out

Office Clean Out